Discover the culinary tradition of Le Marche (lay-Mar-kay) -Italy- in our Restaurants in Covent Garden and Hampsted (with a Deli & Wine shop).
An authentic experience for food lovers.
Reserve a table
View/Cancel a Reservation
Please note the online booking system doesn't allow reservations with less than 24h notice.
Same-day and last-minute booking?
Parties of more than 10 people?
Personalised menu for parties of more than 6 people?
The quality of the local produce is so impressive that one of the most known appetisers is the simple Pa' cu l'ojo (freshly baked bread and extra virgin olive oil), as it is informally called by the people of Ancona, the capital of the Marche region.
Prosciutto, ciauscolo and capocollo, are a few of the traditional cured meats from Le Marche. From the antipasti to the desserts, the authentic character of such a varied regional cuisine emerges.
Its peasant origins are still identifiable in the layered, mouthwatering textures rich on the palate. Cheese, wine, cured meats, olive oil, homemade pastas and breads all have a unique and distinct character and so have the regional recipes.
Come and taste the remarkable Marche!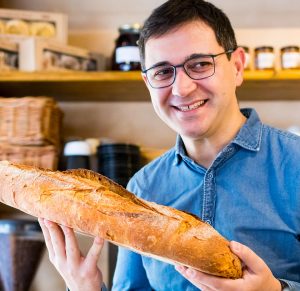 IGOR IACOPINI – founder
One of Igor's many dreams in the drawer, was to open an independent restaurant to celebrate the culinary traditions of his region. Authenticity is a must for Igor, to the point that the bricks and the wooden benches at Rossodisera are original from his father's farmhouse in the Marche countryside. Igor is a Marchigiano from Fermo.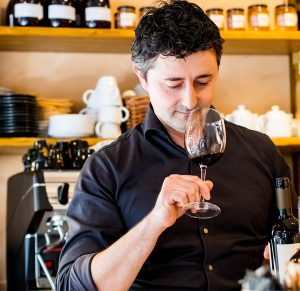 ROBERTO TRAINI GIULIANINI – partner
Roberto is Rossodisera's long-standing partner, a wines connoisseur driven by a strong sense of belonging and dedication to his region, and keeping its traditions alive. Roberto is a Marchigiano from Grottazzolina.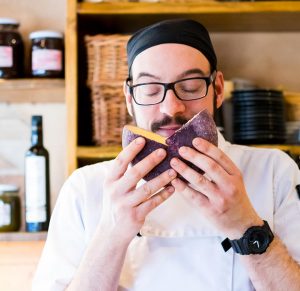 MATTEO LORENZINI – chef
Matteo's grandmother and uncle have taught him the traditional recipes from Le Marche, making him the repository of such knowledge. He decided to become a chef to share with the world the culinary wisdom passed down to him, and thus keep the old recipes alive. Matteo is a Marchigiano from Recanati.